1. Introduction
The OGC Climate Resilience Community brings decision makers, scientists, policy makers, data providers, software developers, and service providers together. The goal is to enable everyone to take the relevant actions to address climate change and make well informed decisions for climate change adaptation. This includes scientists, decision makers, city managers, politicians, and last but not least, it includes everyone of us. So what do we need? We need data from lots of organizations, available at different scales for large and small areas to be integrated with scientific processes, analytical models, and simulation environments. We need data visualization and communication tools to shape the message in the right way for any client. Many challenges can be met through resources that adhere to FAIR principles. FAIR as in: Findable, Accessible, Interoperable, and Reusable. No single organization has all the data we need to understand the consequences of climate change. The OGC Climate Resilience Community identifies, discusses, and develops these resources. The OGC community builds the guidebooks and Best Practices, it experiments with new technologies to share data and information, and collaboratively addresses shared challenges.
The OGC Climate Resilience Community has a vision to support efforts on climate actions and enable international partnerships (SDG 17), and move towards global interoperable open digital infrastructures providing climate resilience information on users demand. This pilot will contribute to establishing an OGC climate resilience concept store for the community where all appropriate climate information to build climate resilience information systems as open infrastructures can be found in one place, be it Information about data services, tools, software, handbooks, or a place to discuss experiences and needs. The concept store covers all phases of Climate Resilience, from initial hazards identification and mapping to vulnerability and risk analysis to options assessments, prioritization, and planning, and ends with implementation planning and monitoring capabilities. These major challenges can only be met through the combined efforts of many OGC members across government, industry, and academia.
This Call for Participation solicits interests from organizations to join the upcoming Climate Resilience Pilot, an OGC Collaborative Solution and Innovation Program activity. This six-months Pilot is setting the stage for a series of follow up activities. It therefore focuses on use-case development, implementation, and exploration. It answers questions such as
What use-cases can be realized with the current data, services, analytical functions, and visualization capabilities that we have?

How much effort is it to realize these use-cases?

What is missing, or needs to be improved, in order to transfer the use-cases developed in the pilot to other areas?
Interested organizations are invited to submit their use-case suggestions. During the pilot, these use-cases will be implemented and assessed collaboratively against a set of Research Questions defined further below. These questions allow aspects regarding data availability, integration, processing, and visualization to be evaluated consistently across all use cases. Together, the use cases will allow us to better understand and equip future Climate Resilience Information Systems (CRIS) and resilience frameworks. They allow us to identify interoperability issues and data integration challenges and pave the way for future collaborative solution development.
2. Objectives
The pilot has three objectives. First, to better understand what is currently possible with the available data and technology. Second, what additional data and technology needs to be developed in future to better meet the needs of the Climate Resilience Community; and third, to capture Best Practices, and to allow the Climate Community to copy and transform as many use-cases as possible to other locations or framework conditions.
3. Background
With growing local communities, an increase in climate-driven disasters, and an increasing risk of future natural hazards, the demand for National Resilience Frameworks and Climate Resilience Information Systems (CRIS) cannot be overstated. Climate Resilience Information Systems (CRIS) are enabling data-search, -fetch, -fusion, -processing and -visualization. They enable access, understanding, and use of federal data, facilitate integration of federal and state data with local data, and serve as local information hubs for climate resilience knowledge sharing.
CRIS are already existing and operational, like the Copernicus Climate Change Service with the Climate Data Store. CRIS architectures can be further enhanced by providing climate scientific methods and visualization capabilities as climate building blocks. Based on FAIR principles, these building blocks enable in particular the reusability of Climate Resilience Information Systems features and capabilities. Reusability is an essential component when goals, expertises, and resources are aligned from the national to the local level. Framework conditions differ across the country, but building blocks enable as much reuse of existing Best Practices, tools, data, and services as possible.
Goals and objectives of decision makers vary at different scales. At the municipal level, municipal leaders and citizens directly face climate-related hazards. Aspects thus come into focus such as reducing vulnerability and risk, building resilience through local measures, or enhancing emergency response. At the state level, the municipal efforts can be coordinated and supported by providing funding and enacting relevant policies. The national, federal, or international level provides funding, science data, and international coordination to enable the best analysis and decisions at the lower scales.
Figure 1. Schematic synergies within different climate and science services due to FAIR and open Infrastructures
Productivity and decision making are enhanced when climate building blocks are exchangeable across countries, organizations, or administrative levels (see Figure below). This OGC Climate Resilience Pilot is a contribution towards an open, multi-level infrastructure that integrates data spaces, open science, and local-to-international requirements and objectives. It contributes to the technology and governance stack that enables the integration of data including historical observations, real time sensing data, reanalyses, forecasts or future projections. It addresses data-to-decision pipelines, data analysis and representation, and bundles everything in climate resilience building blocks. These building blocks are complemented by Best Practices, guidelines, and cook-books that enable multi–stakeholder decision making for the good of society in a changing natural environment.
The OGC Innovation Program brings all groups together: The various members of the stakeholder group define use cases and requirements, the technologists and data providers experiment with new tools and data products in an agile development process. The scientific community provides results in appropriate formats and enables open science by providing applications that can be parameterized and executed on demand.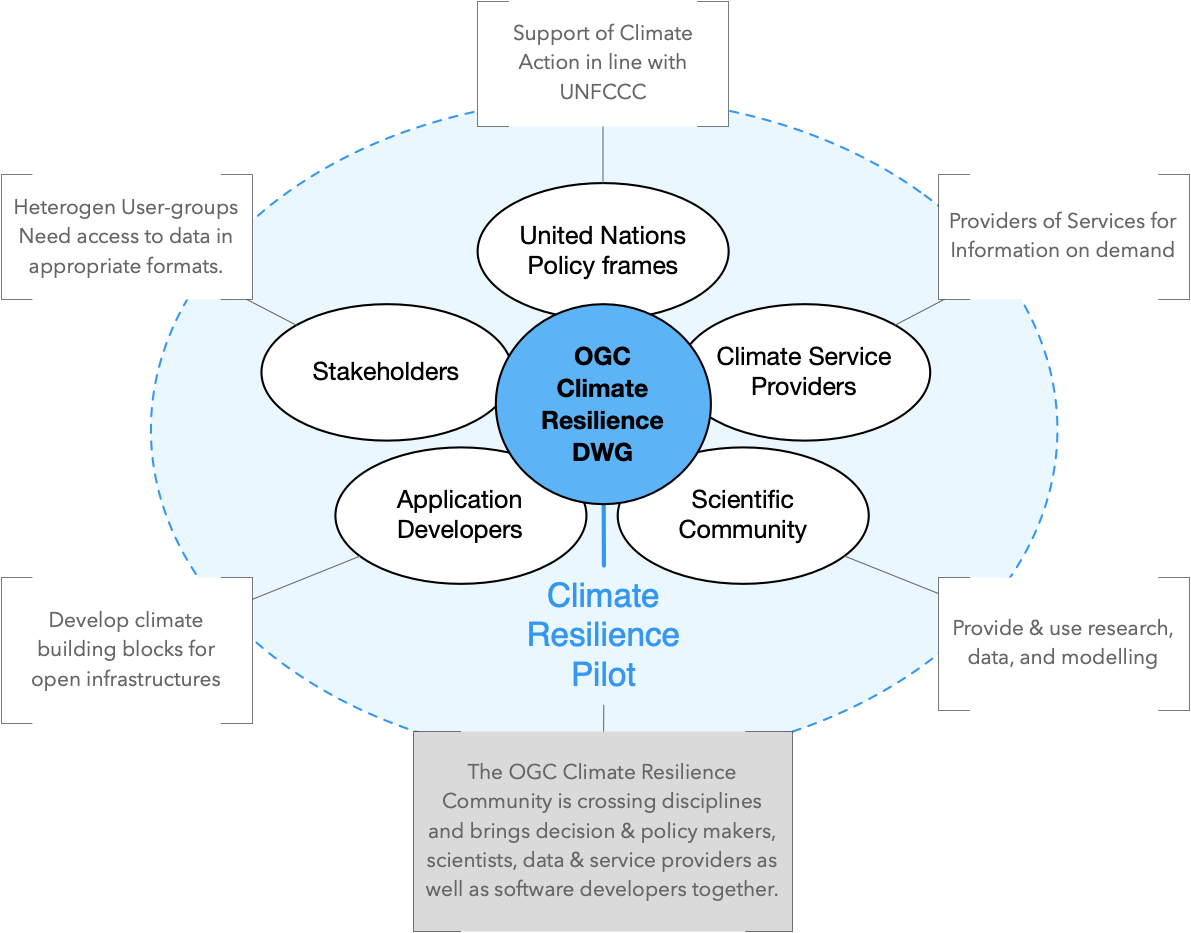 Figure 2. The OGC Climate Resilience DWG and Pilot brings the climate resilience community together with infrastructure providers, policy makers, commercial companies, and the scientific community
This OGC Climate Resilience Pilot is part of the OGC Climate Community Collaborative Solution and Innovation process, an open community process that uses the OGC as the governing body for collaborative activities among all members. A spiral approach is applied to connect technology enhancements, new data products, and scientific research with community needs and framework conditions at different scales. The spiral approach defines real world use cases, identifies gaps, produces new technology and data, and tests these against the real world use cases before entering the next iteration. Evaluation and validation cycles alternate and continuously define new work tasks. These tasks include documentation and toolbox descriptions on the consumer side, and data and service offerings, interoperability, and system architecture developments on the producer side. It is emphasized that research and development is not constrained to the data provider or infrastructure side. Many tasks need to be executed on the data consumer side in parallel and then merged with advancements on the provider side in regular intervals.
Good experiences have been made using OGC API standards in the past. For example, the remote operations on climate simulations (roocs) use OGC API Processes for subsetting data sets to reduce the data volume being transported. Other systems use OGC STAC for metadata and data handling or OGC Earth Observation Exploitation Platform Best Practices for the deployment of climate building blocks or applications into CRIS architectures. Still data handling regarding higher complex climate impact assessments within FAIR and open infrastructures needs to be enhanced. There is no international recommendation or best practice on usage of existing API standards within individual CRIS. It is the goal of this pilot to contribute to the development of such a recommendation, respecting existing operational CRIS that are serving heterogen user groups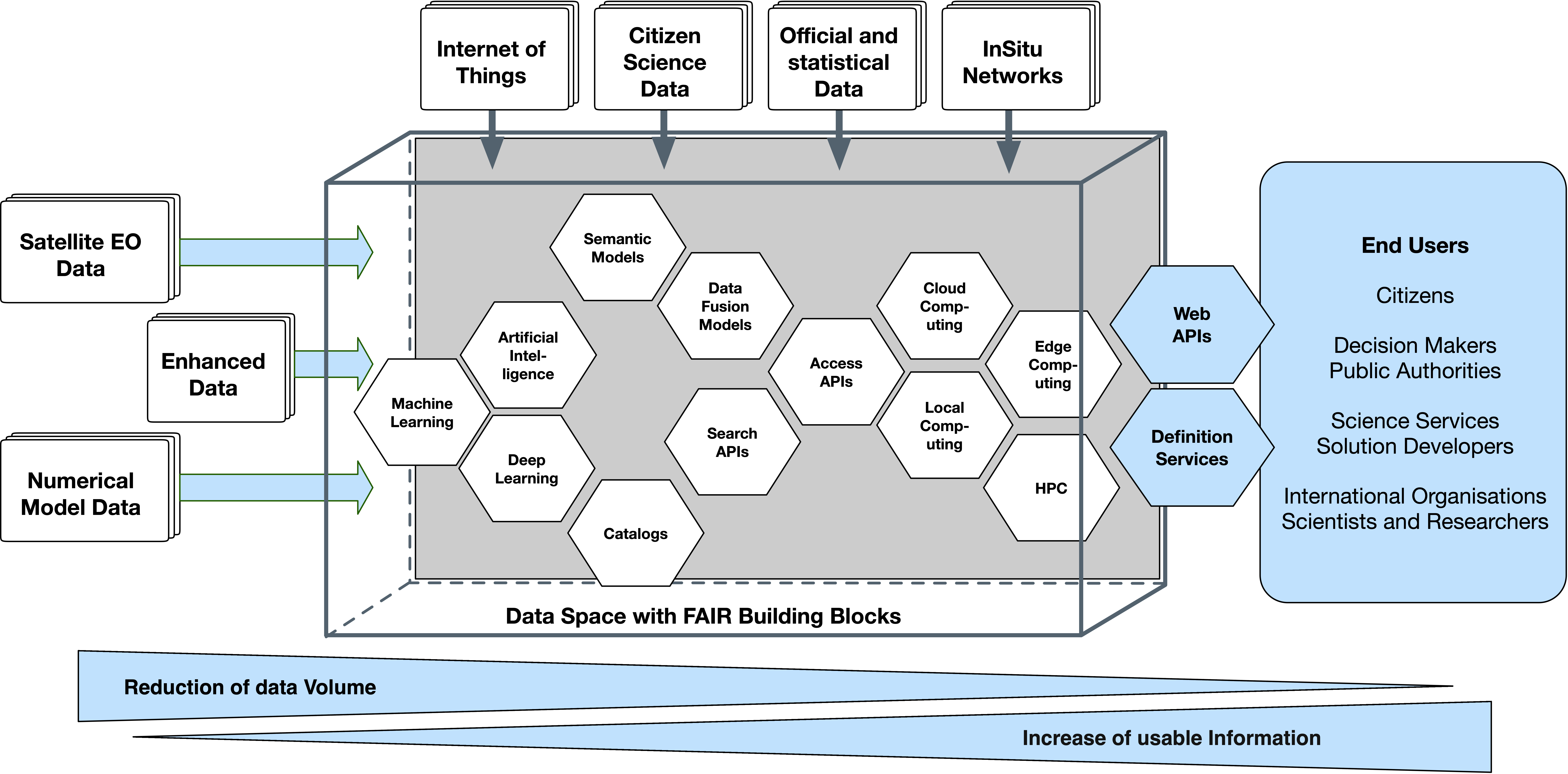 Figure 3. Schematic Architecture of a Climate Resilience Information System. By respecting FAIR principles for the Climate Building Blocks the architecture enables open infrastructures to produce and deliver information on demand of the users needs.
4. Master Schedule
The master schedule is given below. Organizations interested in sponsoring the activity are encouraged to contact innovation@ogc.org to discuss Pilot extensions and future initiative options.
Table 1. Master Schedule

| Milestone | Date |  Event |
| --- | --- | --- |
| | September 14, 2022 | Public Release: Call for Participation |
| | November 18, 2022 | Close of Call for Participation |
| | January 13, 2022 | Kick-Off Workshop (virtual) |
| | February, 2023 | Demonstration event at OGC Member Meeting Climate Resilience DWG (virtual or in person) |
| | May 31, 2023 | Delivery of final Engineering Reports |
| | June 2023 | Closing workshop (in person meeting, tentatively co-located with OGC Member Meeting in Huntsville, Alabama, USA); Official end of the project |
| | July 2023 | Call for participation for next initiatives |
5. Funding
This pilot initiative offers a cost-share for all participants. Bidders who wish to take advantage of the cost-share must document their planned costs in the cost-share template and submit this together with their proposal. Please see Submission Guidelines for further information. Cost-share of funds are to be negotiated upon receipt of the proposal if the proposal is chosen. Funding is determined based upon the work outlined in the proposal and dependent on the complexity of the deliverable.
6. Scope
This OGC Climate Resilience Community initiative focuses on current capabilities and gaps to address the following challenges. Geographic locations are just suggestions. Participants are invited to suggest alternative locations and additional use-cases.
Wildfires: Wildfires are a devastating and growing risk in many regions of our planet. Their occurrences are a result of climate change effects such as extreme heat, drought, and lightning storm severity, as well as a contributor in terms of carbon emissions, forest destruction, and airborne particulate release. For this reason, wildfire risk can be considered both an output and a factor in climate change services. This use-case shall evaluate the current regional / seasonal risk for wildfires and future risks based on climate change data. Participants shall demonstrate wild fire use-cases for the following areas: Southwest USA, Australia, or Greece.

Heat impact: Extreme heat can significantly impact on productivity and kill the vulnerable quickly. We have experienced an increase in heat wave events and their frequency. The total amount of heat in individual heatwaves and heatwave seasons has increased over the past 70 years and this is only expected to get worse with climate change. This use case shall demonstrate the required data discovery, processing, and visualization to enhance the data processing flow for user-friendly production of heat information to support adaptation planning in the UK, India or Pakistan.

Drought Impact: Beside Heat, droughts and other extreme events are increasing due to climate change and causing huge damage, costs, and loss of life. This use case shall demonstrate the required data discovery, processing, and visualization to enhance the data processing flow for user-friendly production of information concerning extreme events.

Flood Impact and Water Management: Managing hydro power plants requires a strong understanding of future water levels in both the water system used for power production and its catchment area. This use case shall demonstrate the data discovery, processing, and visualization for hydro power production in Canada, USA, or Austria.

Global Stocktake for Emissions: The global stocktake is a process of the Paris Agreement (GST) and corresponding National determined contributions to reduce Greenhouse gas emission. While national stocktakes should be used for national progress, the Global Stocktake is going to be established with the aim to assess the world's collective progress towards achieving the purpose of the Paris Agreement and its long-term goals (Article 14). Currently no consistent approach exists on how information is going to be elaborated, and open infrastructures are dedicated to be established for this purpose. Participants are free to explore and suggest data and processes on a best intent basis.

Analysis Ready Data: This last use-case is slightly different to the first five. It does not address a specific thematic use-case, but calls for improved discovery and access to climate indices on a regional level. The work will build on and coordinate with OGC sponsored tasks to develop and promote standards for analysis ready EO datasets. Regional climate indices play an important role for long-term planning and decision-making at regional, national, and sub-national levels. The following areas shall be addressed: USA, Brazil, Turkmenistan, and Indonesia.
7. Research questions
The following questions shall be answered as part of the use-case documentation expected from each participant: Data Discovery
What data was discovered?

How was it discovered?

What data sources have been explored?

What interfaces did you need/find/used for data discovery?

What data did you expect to find but didn't?

What data did you discover being described or referenced on websites, but access to the actual data fails?

Data Integration

Was it possible to integrate the data into the use-case software?

If successful, was it possible to load the data as it was discovered, or was further processing (e.g. reformatting, reprojection, etc.) necessary?

If not, why did it fail?

What interfaces did you need/find/used for data access and integration?

What software did you use?

Data Processing

What data processing steps have been used?

Did you use local (which software?) or cloud-based processing (which service?)?

Did you find services that offered all required data processing?

What additional services would you like to have?

What interfaces did you need/find/used for data processing?

Data Visualization and Result Rendering

Was it possible to render all data in a way that is easy to read/understand?

What challenges did you experience during data/result rendering and visualization?

How does information need to be provided tailoring to UNFCCC policy recommendations?
8. Deliverables
Each participant shall deliver a presentation using a climate application of their choice. The application shall show what data was discovered, processed, and visualized for the demonstration use-case. Each participant is free to choose the type of software used for data integration, analysis, and visualization. No software will be delivered. Instead, delivery is provided in the form of live demonstrations of the use-case during video conferences that will be recorded and used for future outreach activities. Bidders may use a mobile or desktop client to demonstrate their climate use-case. Bidders are free to connect to any number of available data sources available as Web services, though preference is given to use-cases using several standardized interfaces for data discovery and access. The client application does not need to support every step of the use-case. As an example, discovery and data access can be demonstrated using different clients.
In total, this pilot is expected to fund up to eight use-cases. The figure below identifies the corresponding work items. Each Bidder is requested to bid against D100 and contribute to the pilot result Engineering Report, D001. A single Participant will serve as lead editor on D001. Each bidder is invited to bid for this role.
Figure 4. Overview of the Pilot Deliverables. Each Bidder needs to bid for the client application D100 and may bid for the lead editor role D001. Blue icons to the right illustrate publicly available web services serving data, catalog information, or processing capacities
D100 - Client instance: Climate use-case demonstrated through dedicated client instance. The client instance will be delivered in the form of a live demonstration that illustrates all elements of the use-case. Ideally, the client shall make use of several publicly available data servers. It is not expected that participants will deliver any software or data.
D001 - Climate Resilience Pilot Engineering Report: Engineering Report that captures all results and lessons learned of this pilot. One bidder will serve as lead editor for this report. All other Participants are required to contribute their results, experiences made, use-case descriptions, and lessons learned. All research questions stated above need to be addressed as part of this contribution.
9. Link to Disaster Pilot
A principal theme of the OGC Disaster Pilot 2022 will concern wildfire hazard resilience in medium time frames, and response awareness in shorter time frames, as well as consequential relationships with other hazards, such as drought, and impacts, such as health status. Climate resilience links to disaster awareness in the medium term on the planning and mitigation side as climate changes impact the risks of wildfire frequency and severity. There are also some connections on the shorter term disaster response side, to the extent that climate effects may complicate and constrain response resources such as water availability for fire fighting, or impact the vulnerability of people and assets to wildfire impacts.
10. Miscellaneous
10.1. Call for Participation
The Call for Participation (CFP) consists of stakeholder role descriptions, proposal submission instructions and evaluation criteria, a master schedule and other project management artifacts, Sponsor requirements, and an initiative architecture. The responses to this CFP should include the proposing organization's technical solution, cost-sharing requests for funding, and proposed in-kind contributions to the initiative.
Once the original CFP has been published, ongoing authoritative updates and answers to questions can be tracked by monitoring the CFP Corrigenda Table and the CFP Clarifications Table.
10.2. Correspondence and Collaboration
Each Participant agrees to utilize the following correspondence and collaboration tools:
Participate in telecons using the GoToMeeting tool;

Edit Engineering Report source files in the Asciidoc format using the OGC Engineering Report template (to be provided);

Upload Engineering Report source files to the designated GitHub or Gitlab repository;

Use the designated GitHub/Gitlab repository for communication and reporting;

Utilize the OGC Web Portal, with modules for calendaring, contact lists, file storage, timeline, action items, and meeting scheduling; and

Send and receive emails to/from Initiative email broadcast list(s).
10.3. Reporting
Each Participant agrees to report the status of deliverables weekly to the initiative architect (Technical Status Reports) and monthly in business status reports.
Technical Status Reports: Each Participant agrees to use Github/Gitlab issues to report the status on each assigned deliverable on a weekly basis. These short reports shall include the following information:
Deliverable ID and Name,

Health: G, Y, R (green, yellow, red),

%complete (0%-100%),

Work accomplished in reporting period (last week),

Work anticipated in reporting period+1 (next week),

Any known risks or issues,

Response to mitigate the risk or remedy the issue.
Monthly Business Status Reports: Each Participant agrees to email monthly business status reports no later than the 3rd of each second month (or the first workday after if the 3rd is not a workday). This report should include the period and cumulative hours and cost expended for each assigned deliverable.
Appendix C: Abbreviations
The following table lists all abbreviations used in this CFP.
| | |
| --- | --- |
| CFP | Call for Participation |
| CR | Change Request |
| DER | Draft Engineering Report |
| DWG | Domain Working Group |
| ER | Engineering Report |
| GPKG | GeoPackage |
| IER | Initial Engineering Report |
| IP | Innovation Program or Intellectual Property |
| MPA | Master Participation Agreement |
| OGC | Open Geospatial Consortium |
| ORM | OGC Reference Model |
| OWS | OGC Web Services |
| PA | Participation Agreement |
| POC | Point of Contact |
| Q&A | Questions and Answers |
| RM-ODP | Reference Model for Open Distributed Processing |
| SOW | Statement of Work |
| SWG | Standards Working Group |
| TBD | To Be Determined (at a later date) |
| TC | OGC Technical Committee |
| TEM | Technical Evaluation Meeting |
| TIE | Technology Integration / Technical Interoperability Experiment |
| URL | Uniform Resource Locator |
| WFS | Web Feature Service |
| WMTS | Web Map Tile Service |
| WG | Working Group (SWG or DWG) |
Appendix D: Corrigenda & Clarifications
The following table identifies all corrections that have been applied to this CFP compared to the original release. Minor editorial changes (spelling, grammar, etc.) are not included.
| Section | Description |
| --- | --- |
| no entries | |
The following table identifies all clarifications that have been provided in response to questions received from organizations interested in this CFP.
| Question | Clarification |
| --- | --- |
| no entries | |